Red Velvet Cupcakes (with sour cream)
Oh gosh, I haven't posted in months (okay, like two and a half), and it's not like I don't have recipes or photos to post either. Life happened.
Chip and I are back in Texas. Tampa was such a blast! (I never really got used to the humidity during the summer, but everything else was absolutely awesome)
Anywho, time for me to get back in the saddle….and I have just the recipe to kick-start my hiatus: Red Velvet Cupcakes.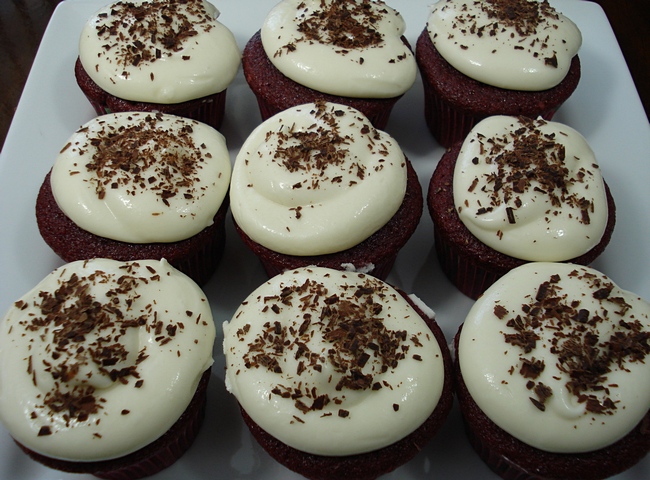 I'd never really thought much of Red Velvet Cupcakes after trying one eons ago. It took sharing an awesome Cake Couture Red Velvet Cupcake with Chip to completely change my opinion.
I made these well over a year ago. I picked out two different recipes (the main reason I selected 'em) and made 'em both the same day. This is the first batch (I'll post the 2nd recipe soon). The key differences between the two recipes are:
This recipe has 1 cup of sour cream (the other recipe doesn't)
This one uses butter (the other calls for vegetable oil)
This has 4x the amount of vanilla
Verdict: Moist, tasty cupcakes!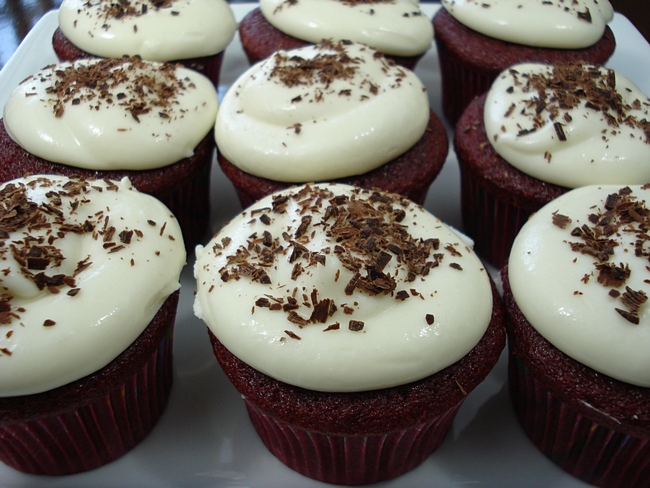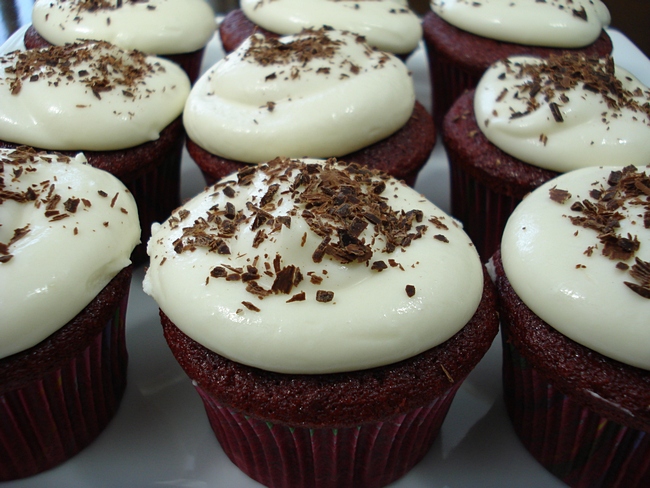 INGREDIENTS:
2 1/4 cups all-purpose flour
1/2 cup unsweetened cocoa powder
1 teaspoon baking soda
1/2 teaspoon salt
1 cup unsalted butter, softened – I use Land O'Lakes
2 1/4 cups sugar
4 eggs, yolks & whites separated
1 cup sour cream
1/2 cup buttermilk*
4 teaspoons red food coloring
4 teaspoons vanilla extract – I like Nielsen Massey
*Please note: You can easily substitute milk + vinegar for the buttermilk. For this recipe, pour 1/2 tablespoon (1 1/2 teaspoons) white vinegar into a 1/2-cup measuring cup. Add enough milk to fill the measuring cup. Let stand for 5 minutes, then stir.
PREPARATION:
Soften butter by letting it stand for 30-45 minutes at room temperature OR cut into chunks and allow to stand for 15 minutes at room temperature.
Separate egg yolks from the egg whites (keep egg whites in another bowl). Whip egg whites until frothy.
DIRECTIONS:
Preheat oven to 350 degrees F. Mix flour, cocoa powder, baking soda and salt in medium bowl. Set aside.
Beat butter and sugar in large bowl with electric mixer on medium speed for 5 minutes or until light and fluffy. Drop egg yolks in mixing bowl, then beat.
Mix in sour cream, buttermilk, food coloring, and vanilla. Gradually beat in flour mixture on low speed until just blended. Add egg whites and mix until incorporated. Do not overbeat! Spoon batter into 24 paper-lined muffin cups, filling each cup 2/3 full (mine was closer to 3/4 full).
Bake 18 to 22 minutes or until toothpick (or cake tester) inserted into cupcake comes out clean. Gently remove from oven. Cool in pans on wire rack at least 5 minutes. Remove from pans; cool completely.  Frost with Cream Cheese Frosting.
(Recipe adapted from Carrot Top Mom)
Cream Cheese Frosting:
8 ounce package cream cheese, softened
1/4 cup butter, softened
1 1/2 teaspoons vanilla extract
2 cups confectioners' sugar
PREPARATION:
Soften cream cheese and butter by letting it stand at room temperature for 5 minutes
DIRECTIONS:
Using your mixer's whisk attachment, cream together the cream cheese and butter until creamy. Replace whisk with paddle attachment. Mix in the vanilla, then gradually add the confectioners' sugar.
Stick mixing bowl in freezer for 20 minutes. Using spatula, flip over frosting, then place mixing bowl in fridge for 15 minutes. Frosting will be firm enough to pipe onto cupcakes (I use Bake It Pretty's Best Ever Cupcake Icing Kit). Note: My frosting for these cupcakes (see above photos) wasn't quite firm yet. :p
Makes frosting for 12-14 cupcakes. Double recipe for 24 cupcakes.
I thought these cupcakes looked a little bare, so I topped 'em with shaved Lindt dark chocolate (70% cocoa).
Yummy cupcake recipes:
Last year's post:
Four years ago (2010):
« « Portland Holiday Fun
|
Best Red Velvet Cupcakes » »