San Antonio River Walk, Part 2
There's a Part 1 (it has 32 photos!), so please take a looksie there first.
Almost two years ago, my sweetie, Chip, and I spent an afternoon exploring the San Antonio River Walk and nearby sites.  I was amazed with the history behind the modern-day beautifully landscaped River Walk (from reading the sign posts).  Early settlers used the San Antonio River as a means to live.
Nowadays, River Walk is a haven for tourists and residents alike.  There are restaurants galore; the Rivercenter Mall and La Villita for shopping; the Arneson River Theatre during special events, or just a casual stroll along the San Antonio River.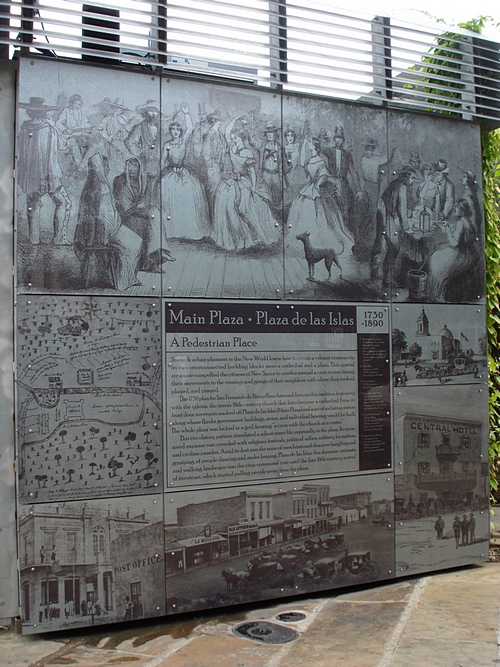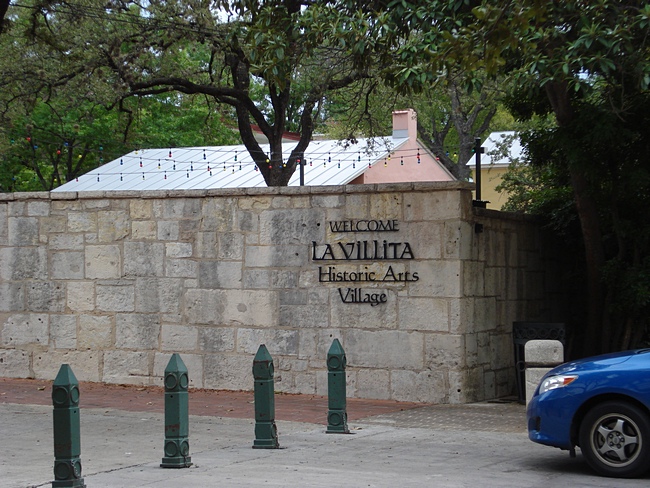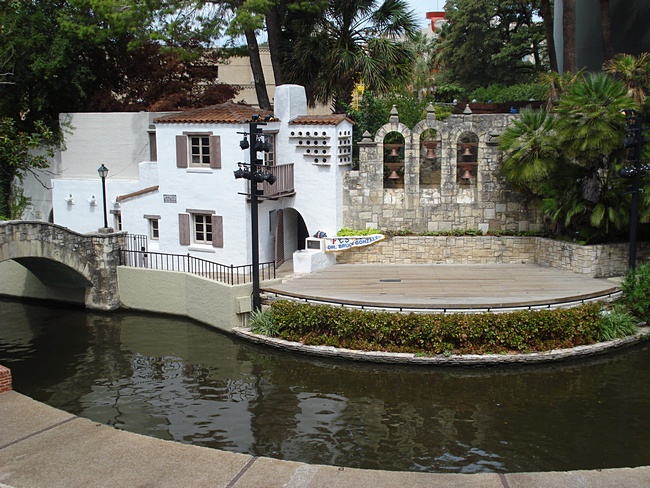 Arneson River Theatre
At center left is Rosita's Bridge


Rosita's Bridge
"Dedicated to Rosita Fernandez, singer of songs which have helped to build the bridge of understanding for the many cultures that make San Antonio a great place to live."


Sign post about Bowen's Island
"The Bowen family sold the island in 1910 and real estate developers rerouted the river and extended streets to create a valuable ten-acre building site [including the 31-story Tower Life Building]."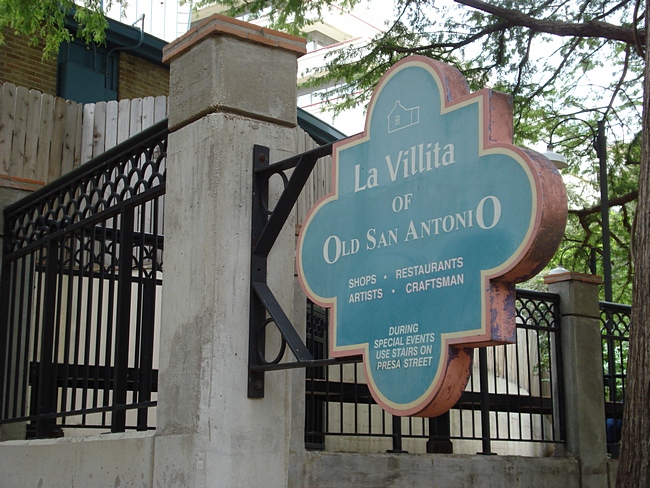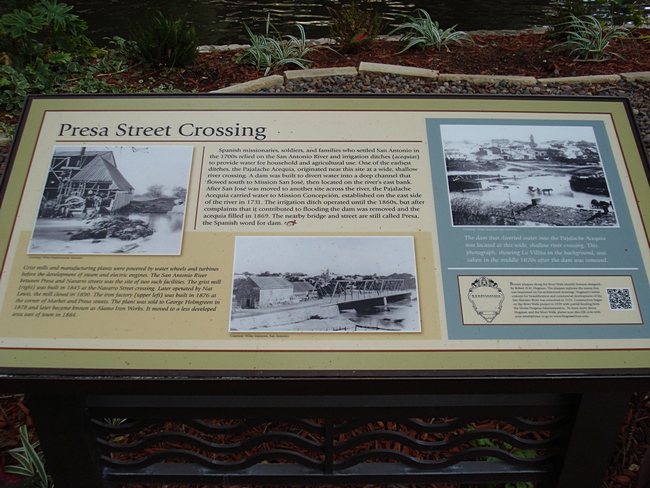 Sign post about Presa Street Crossing
"One of the earliest ditches, the Pajalache Acequia, originated near this site at a wide, shallow river crossing. A dam was built to divert water into a deep channel that flowed south to Mission San Jose (then located on the river's east bank)."


Presa Street Bridge
Manufactured in 1890 by the Berlin Iron Bridge Company in East Berlin, Connecticut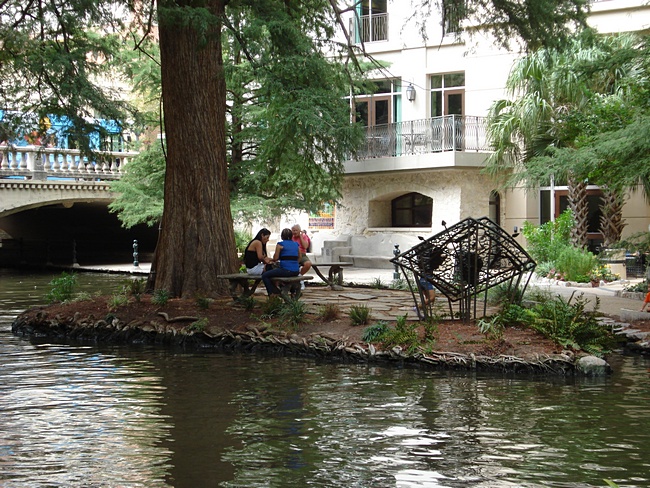 Marriage Island
From Wikipedia–"Over the years it has come to be known as Marriage Island due to the many wedding ceremonies performed there."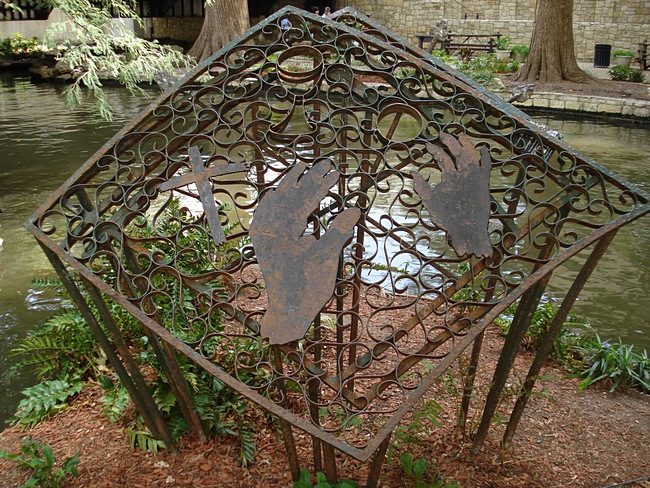 "Padre Damian Massanet's Table" located in Marriage Island
"This sculpture symbolizes the first Mass celebrated in San Antonio on June 13, 1691. The day before, the first Spanish expedition to march across Texas to the Louisiana border reached a stream the Indians called Yanaguana — "Place of Restful Waters" — which the Spaniards led by Captain Domingo de Teran and Padre Damian Massanet, O.F.M., named the Rio de San Antonio "because it was his day" — the Feast Day of the great St. Anthony of Padua."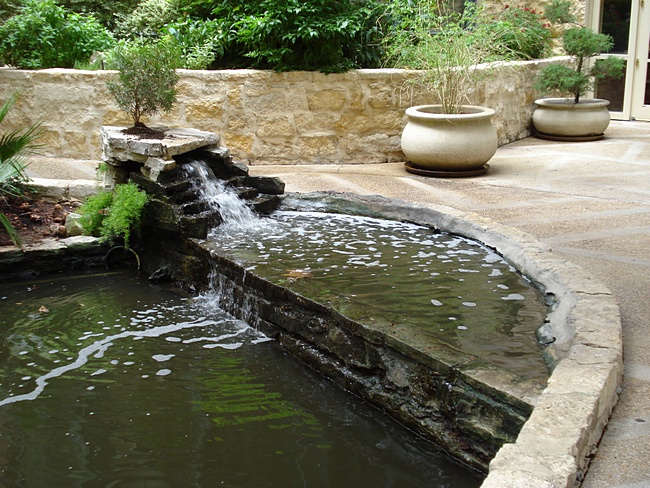 These next 5 photos were taken on the premises of the Bexar County Plaza, which includes the Courthouse and Lady Justice Fountain…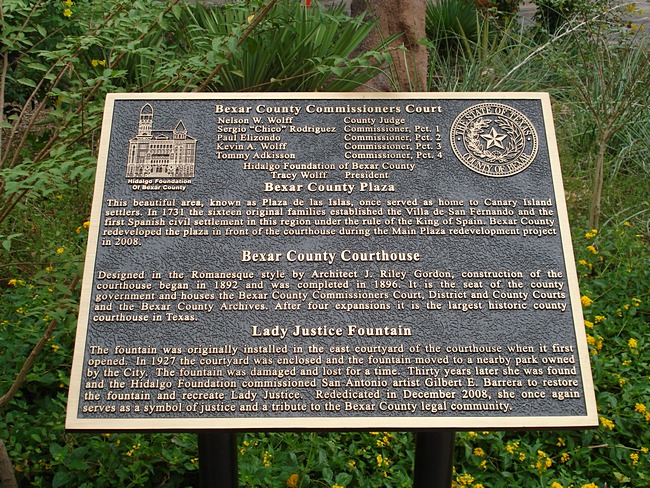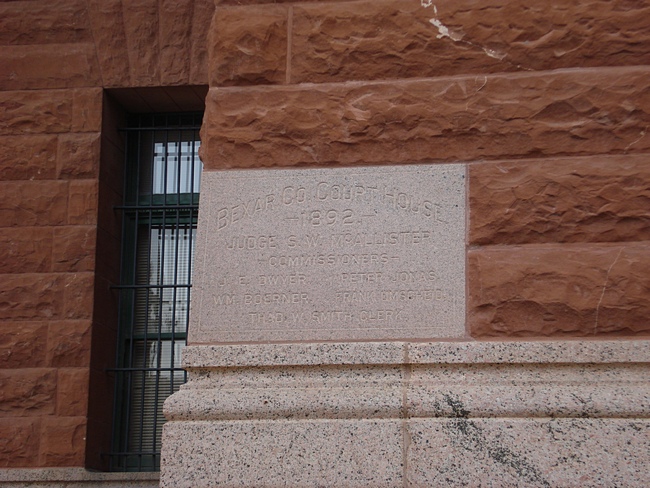 Bexar County Courthouse (established in 1892)
Nearby the Bexar County Courthouse…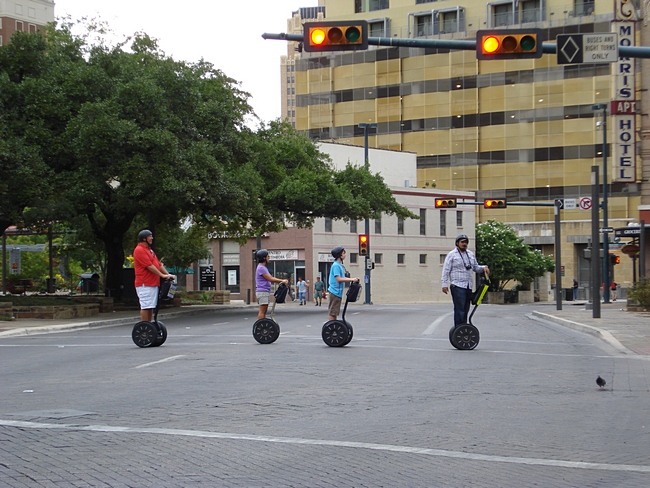 Touring with segways!
Hey, why didn't we think of doing that?!
The San Antonio River Walk:
Last year's post:
Three years ago (2010):
Five years ago (2008):
« « San Antonio River Walk, Part 1
|
Road Trippin' (Part Two): Arizona to San Diego and back » »