Best Red Velvet Cupcakes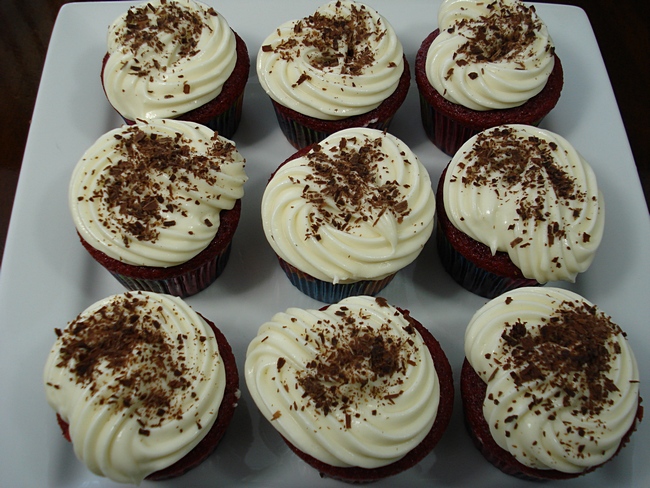 Well over a year ago, I made two different Red Velvet Cupcake recipes on the same day. The first recipe had sour cream in it, butter, and four times the amount of vanilla.  This 2nd recipe is Martha Stewart's.  Comparing the two:  This doesn't have sour cream, uses veggie oil (not butter), and has only 1 teaspoon vanilla extract (instead of 4 teaspoons).  It was a bit too greasy for my liking.
I made a couple of changes to the recipe (namely doubling the cocoa, decreasing the vegetable oil, using all purpose flour)…and it's absolutely heavenly with the modifications.  In fact, the 3rd time I made it (last summer) and brought 'em to a BBQ potluck, I noticed a couple of people take a cupcake home with them. If that's not compliment, I don't know, what is!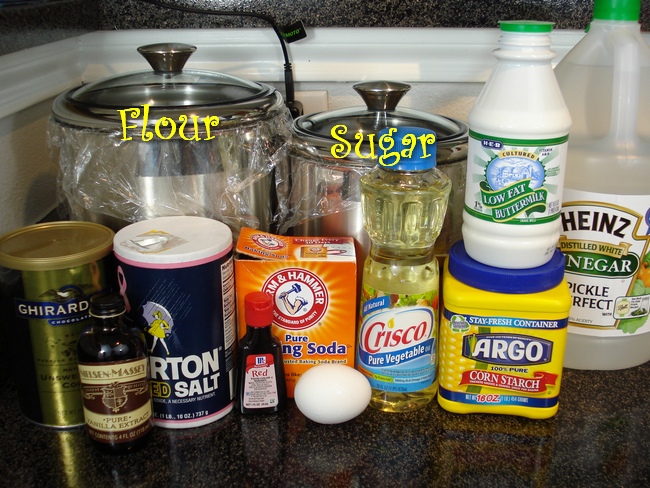 Everything you'll need to make these awesome cupcakes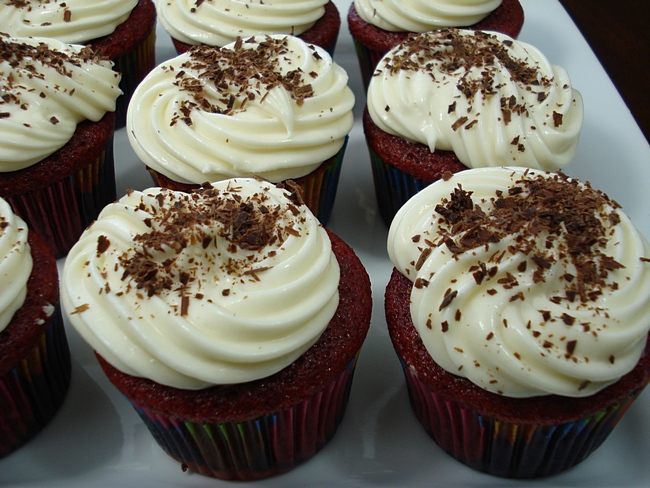 Cupcakes are moist and flavorful with the extra cocoa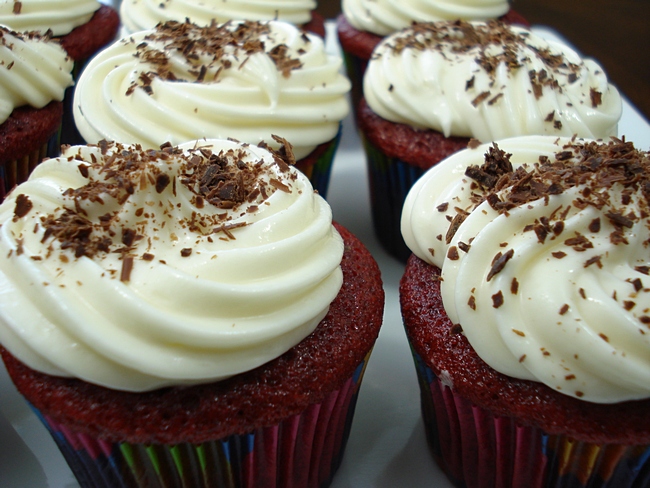 I love topping these cupcakes with chocolate shavings, gives 'em character :p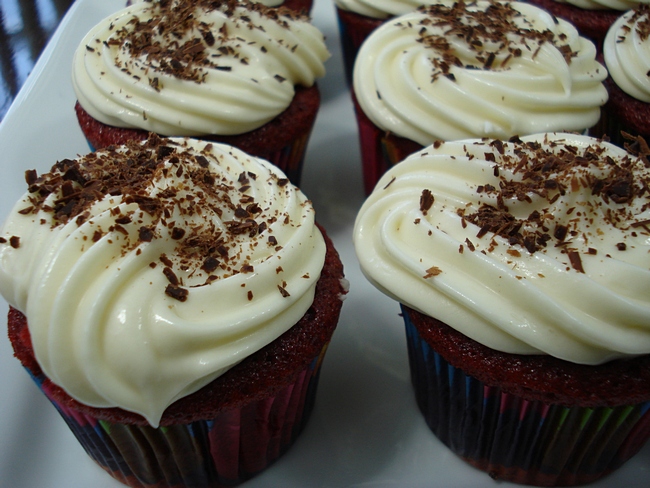 Okay, I know what you're thinkin'…you wanna see what it looks like on the inside. Well, your wish is my command.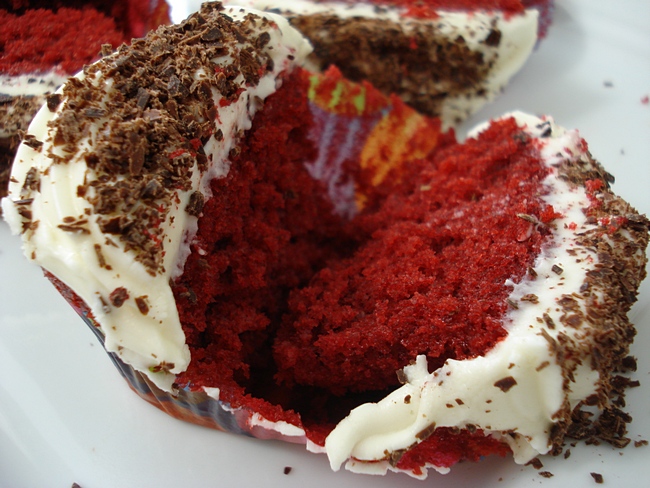 The red hue is absolutely gorgeous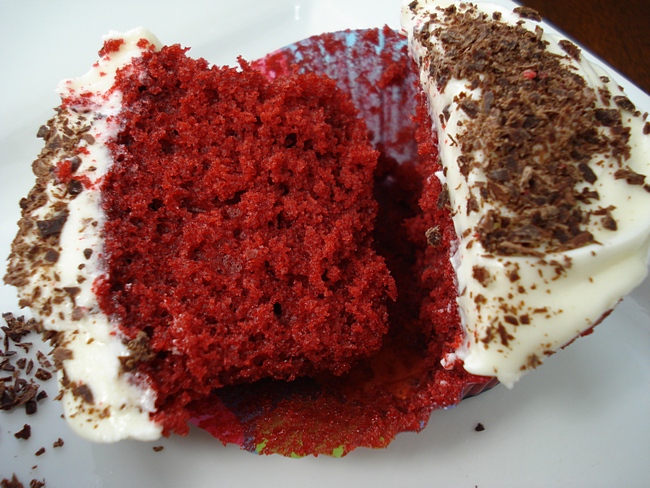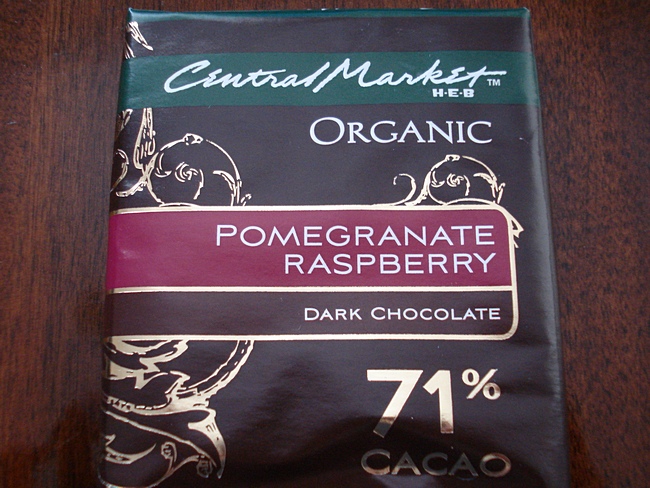 The chocolate bar I used for the shavings

INGREDIENTS:
2 1/2 cups all purpose-flour*
5 tablespoons cornstarch
4 tablespoons unsweetened Dutch-process cocoa powder – I use Ghirardelli Unsweetened Cocoa
1 teaspoon salt
1 1/2 cups sugar
1 cup vegetable oil
2 large eggs, room temperature
2 tablespoons red food coloring
1 teaspoon pure vanilla extract – I like Nielsen Massey
1 cup buttermilk**
1 1/2 teaspoons baking soda
2 teaspoons distilled white vinegar
*Please note: Martha's actual recipe uses cake flour. But if you're like me, I pretty much only use all-purpose flour.  You can substitute all-purpose flour + cornstarch for cake flour (which is what I did).  Here's how you do it:  For every cup of all-purpose flour, measure 2 tablespoons cornstarch first before filling 1-cup measuring cup with flour. (For this recipe, you'll need 2 1/2 cups all purpose-flour and 5 tablespoons cornstarch).
**Note: You can easily substitute milk + vinegar for the buttermilk. For this recipe, pour 1 tablespoon white vinegar into a 1-cup measuring cup. Add enough milk to fill the measuring cup. Let stand for 5 minutes, then stir.
PREPARATION:
Let eggs reach room temperature
DIRECTIONS:
Preheat oven to 350 degrees F. Line standard muffin tins with paper liners. Whisk together flour, cornstarch, cocoa, and salt.
With an electric mixer on medium-high speed, whisk together sugar and oil until combined. Add eggs, one at a time, beating until each is incorporated, scraping down sides of bowl as needed. Mix in food coloring and vanilla.
Reduce speed to low. Add flour mixture in three batches, alternating with two additions of buttermilk, and whisking well after each. Stir together the baking soda and vinegar in a small bowl (it will foam); add mixture to the batter, and mix on medium speed 10 seconds.
Divide batter evenly among the lined cups, filling each three-quarters full. Bake, rotating tins halfway through, until a cake tester inserted in centers comes out clean, about 20 minutes. Transfer tins to wire racks to cool completely before removing cupcakes. Cupcakes can be stored overnight at room temperature, or frozen up to 2 months, in airtight containers.
Makes 24 cupcakes.

Cream Cheese Frosting:
8 ounce package cream cheese, softened
1/4 cup butter, softened
1 1/2 teaspoons vanilla extract
2 cups confectioners' sugar
PREPARATION:
Soften cream cheese and butter by letting it stand at room temperature for 5 minutes
DIRECTIONS:
Using your mixer's whisk attachment, cream together the cream cheese and butter until creamy. Replace whisk with paddle attachment. Mix in the vanilla, then gradually add the confectioners' sugar.
Stick mixing bowl in freezer for 20 minutes. Using spatula, flip over frosting, then place mixing bowl in fridge for 15 minutes. Frosting will be firm enough to pipe onto cupcakes (I use Bake It Pretty's Best Ever Cupcake Icing Kit).
Makes frosting for 12-14 cupcakes. Double recipe for 24 cupcakes.
Yummy cupcake recipes:
« « Red Velvet Cupcakes (with sour cream)
|
Peanut Butter Cookies » »