Pumpkin Ginger Cupcakes
It's officially Fall season, but it sure doesn't seem like it here in central Florida where our daytime temps are in the 80s (it's definitely a lot less humid than last month though). You know how I know it's Fall (besides all the Halloween candy and costumes for sale)? Pumpkin flavors everywhere: lattes, pies, loaves, ice cream. Everything pumpkin-y. Mmmmmm.
I made these cupcakes a few weeks ago before fresh pumpkins showed up at the grocery stores.  (Mental note:  Check grocery stores for Ben & Jerry's Pumpkin Cheesecake flavor ASAP).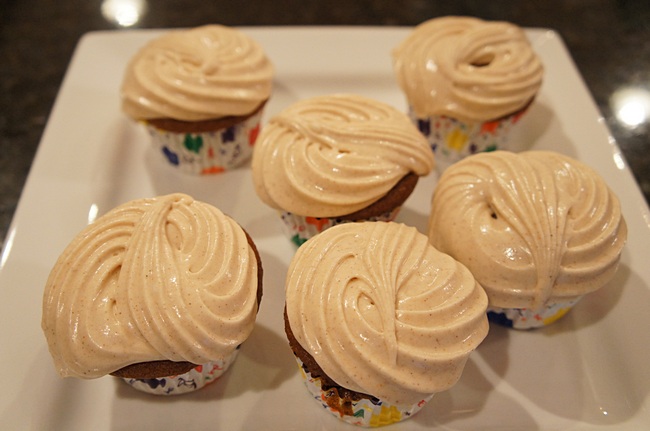 I threw in 1 1/2 teaspoons cinnamon to my cream cheese frosting. Yum!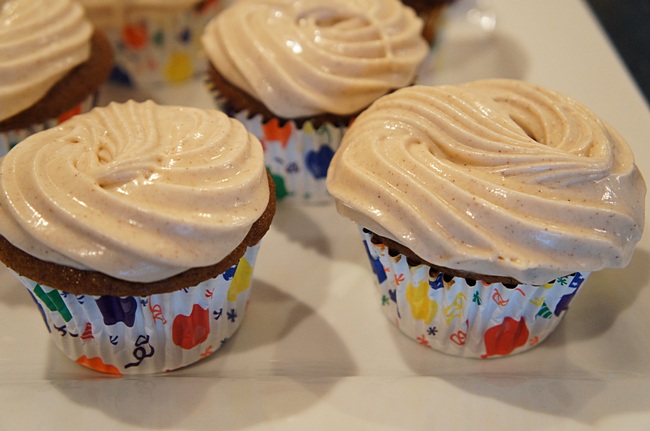 These cupcakes packs a punch when it comes to pumpkin flavor and taste


I plan on making these every Fall for years to come!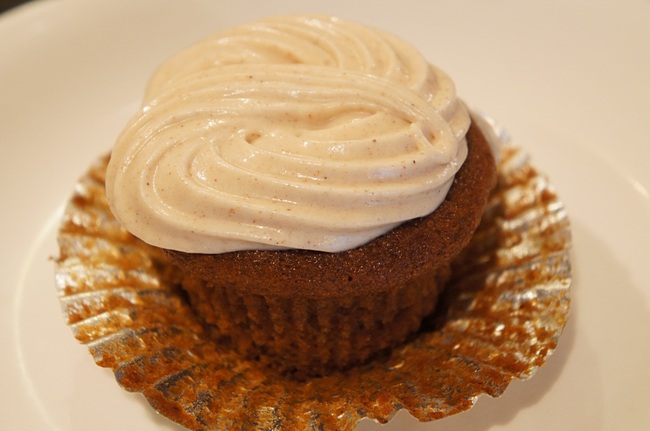 Something tells me I'll be baking these again soon, maybe Thanksgiving

INGREDIENTS:
2 cups all-purpose flour
1 (3.4 ounce) package instant vanilla pudding mix
2 teaspoons baking soda
1/4 teaspoon salt
1 tablespoon ground cinnamon
1/4 teaspoon ground nutmeg
1/4 teaspoon ground cloves
1/2 tablespoon (1 1/2 teaspoons) ground ginger
1/2 cup (1 stick) unsalted butter, room temperature – I use Land O'Lakes
1 cup white sugar
1 cup packed brown sugar
1/2 cup applesauce
4 eggs, room temperature
1 teaspoon vanilla extract
1 (15 ounce) can pumpkin puree
PREPARATION:
Let eggs reach room temperature
Soften butter by letting it stand for 30-45 minutes at room temperature OR cut into chunks and allow to stand for 15 minutes at room temperature
DIRECTIONS:
Preheat an oven to 350 degrees F (175 degrees C). Grease 24 muffin cups, or line with paper muffin liners.
Whisk together the flour, vanilla pudding mix, baking soda, salt, cinnamon, nutmeg, cloves, and ginger in a bowl; set aside.
Beat the butter, white sugar, and brown sugar with an electric mixer in a large bowl until light and fluffy. Add applesauce. Add the room-temperature eggs one at a time, allowing each egg to blend into the butter mixture before adding the next. Beat in the vanilla and pumpkin puree with the last egg.
Stir in the flour mixture, mixing until just incorporated. Pour the batter into the prepared muffin cups.
Bake about 22-27 minutes OR until toothpick/cake tester inserted near the center comes out clean. Cool in the pans for 10 minutes before removing to cool completely on a wire rack.
(Recipe adapted from Allrecipes)
Cinnamony Cream Cheese Frosting
INGREDIENTS:
 8 ounce package cream cheese, softened
 1/4 cup butter, softened
 1 1/2 teaspoons vanilla extract
 2 cups confectioners' sugar
 1 1/2 teaspoons ground cinnamon
PREPARATION:
 Soften cream cheese and butter by letting it stand at room temperature for 5 minutes
DIRECTIONS:
Using your mixer's whisk attachment, cream together the cream cheese and butter until creamy. Replace whisk with paddle attachment. Mix in the vanilla, then gradually add the confectioners' sugar. Add ground cinnamon.
Stick mixing bowl in freezer for 20 minutes. Using spatula, flip over frosting, then place mixing bowl in fridge for 15 minutes. Frosting will be firm enough to pipe onto cupcakes (I use Bake It Pretty's Best Ever Cupcake Icing Kit). Note: My frosting for these cupcakes (see above photos) wasn't quite firm yet. :p
Makes frosting for 12-14 cupcakes.  Double recipe for 24 cupcakes.
Yummy pumpkin recipes:
Five years ago (2008):
« « World War II Memorial
|
Lovin' Tampa » »