Blueberry Muffins


Here are the top 5 reasons why you should make these Blueberry Muffins:
1) They're incredibly yummy
2) Easy to make (no mixer required)
3) They stay fresh for days if you keep them in an airtight container
4) They're not messy when you're eating 'em on the go
5) See reasons #1-4 :p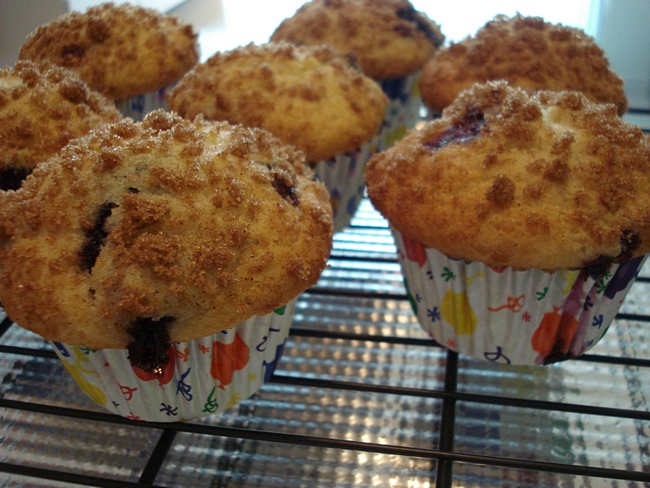 I've made these twice now. Both times were for our 4-day jaunts to Orlando (Walt Disney World & Universal Studios) last month and recently. I got 9 muffins from the 1st batch, and had Chipster try the "extra" muffin (smallest one) the evening we were packing. The following morning when I ate mine (en route to jump on the Epcot tram), I realized he hadn't commented on his muffin at all. It was deliiicious! Apparently, he wanted me to try one before saying how yummy they were.
I'll say this much–I'm not sure I'd ever eat a store-bought blueberry muffin ever again…'cause they won't measure up to these babies.  And they're easy to make too!
Both times, I stored 'em in a large cookie tin (the same tin I stored our magnets in during our road trip to Tampa) and they stayed fresh for 4 days.  It definitely tied us over for a couple of hours until lunchtime (since we usually knocked out riding the popular rides first).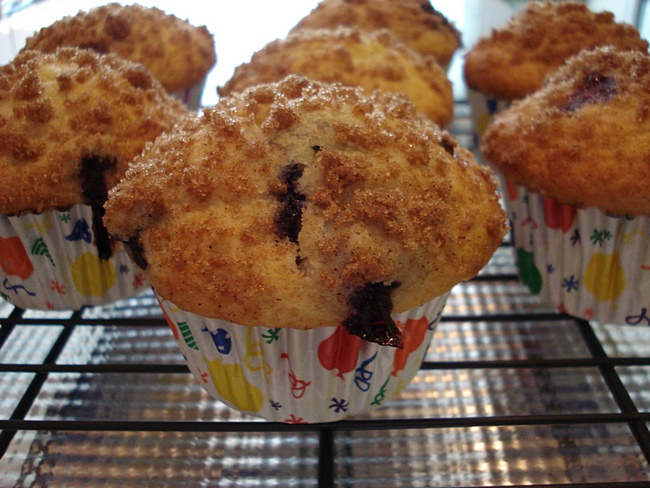 This is officially my go-to recipe whenever we need a quick breakfast/snack for a few days.
INGREDIENTS:
1-2 tablespoons all-purpose flour
1 cup fresh blueberries – Don't even think about using frozen blueberries!
1 1/2 cups all-purpose flour
3/4 cup white sugar
1/2 teaspoon salt
2 teaspoons baking powder
1/3 cup vegetable oil
1 egg
1/2 cup buttermilk*
1 teaspoon vanilla extract – I like Nielsen Massey
Non-stick baking spray with flour – I use Baker's Joy
*Please note:  You can easily substitute milk + vinegar for the buttermilk. For this recipe, pour 1/2 tablespoon (1 1/2 teaspoons) white vinegar into a 1/2-cup measuring cup. Add enough milk to fill the measuring cup. Let stand for 5 minutes, then stir.
Topping:
1/4 cup brown sugar
3/4 teaspoon ground cinnamon
PREPARATION:
On a plate, dredge the fresh blueberries in 1-2 tablespoons flour until coated.
Something I just learned from baking these muffins is spraying the inside of my muffin liners.  I arrange my 8 muffin liners on a plate, then lightly spray with baking spray.
DIRECTIONS:
You will be mixing this by hand; no mixers are necessary for this recipe!  Rejoice!
Preheat oven to 375 degrees F (200 degrees C). Line a muffin pan with 8 muffin liners.
In a mixing bowl, combine 1 1/2 cups flour, white sugar, salt and baking powder.
Pour 1/3 cup vegetable oil into a 1-cup measuring cup; add the egg and enough buttermilk to fill the cup. Pour liquid into flour mixture. Add vanilla. Do not overmix! Fold in blueberries. Fill muffin liners right to the top.
In small bowl, combine brown sugar with the ground cinnamon. Sprinkle over muffins (I use about 95% of the topping).
Bake for 20 to 25 minutes in the preheated oven, or until toothpick/cake tester inserted near the center comes out clean.
MAKES:  8 muffins
(Recipe adapted from Allrecipes)
You may also like:
Four years ago (2009):
« « Lovin' Tampa
|
Beloved Cheesecake Corner » »