Peanut Butter Cookies
I made these cookies a little over a year ago. I'm normally an anything-morsels lover (like my fave Chocolate Chip Cookie recipe), but spotting Kevin & Amanda's Peanut Butter Cookies (made with Honey Roasted Peanuts!)….there was no way I'd pass up making a batch.
I upped the peanut butter by 1/4 cup.  I wanted this to be an over-the-top cookie, so for half the cookies, I dipped them in melted chocolate before adding more nutty goodness.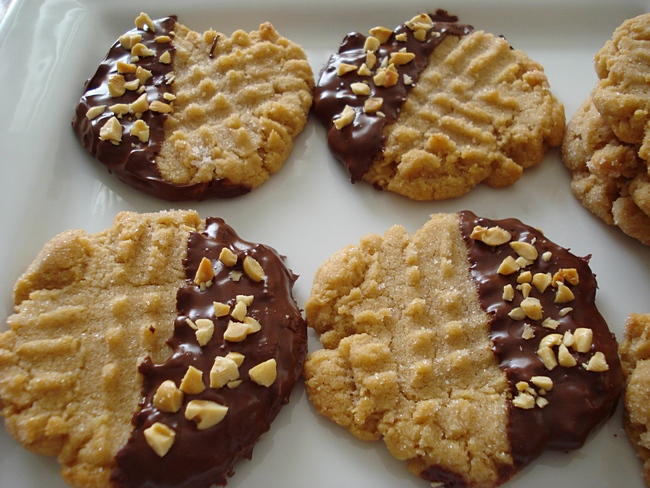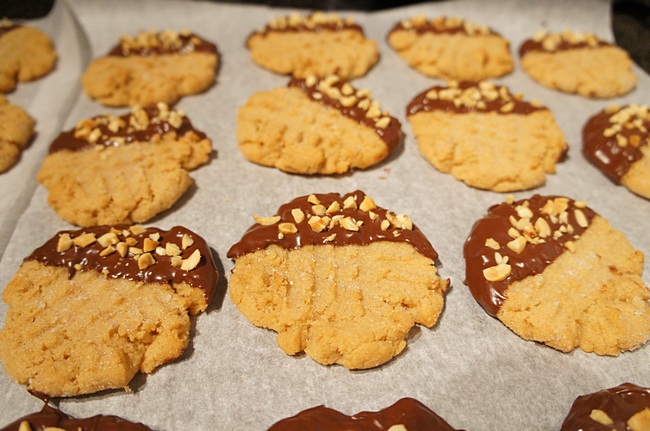 The other half of the cookies, I kept as is, away from the chocolate.  Either way you make 'em, the peanut butter flavor is nutrageously good.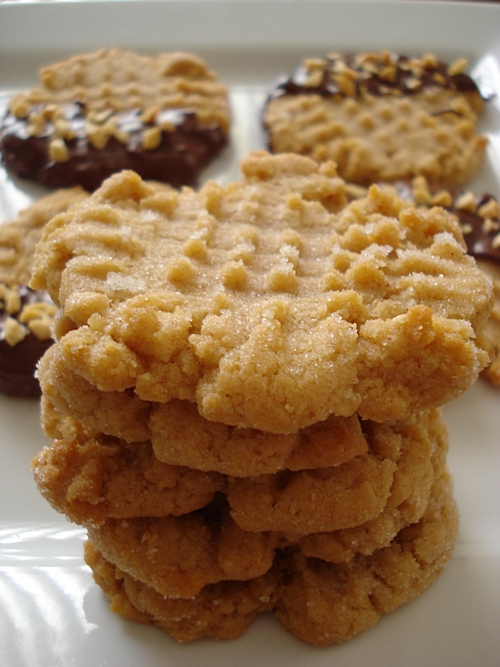 INGREDIENTS:
1 (16 oz) jar honey roasted peanuts – I used Planters brand
1/2 cup (1 stick) butter, softened
1 cup sugar
1 cup brown sugar, packed
2 eggs
1 tablespoon vanilla – I like Nielsen Massey
2 1/2 cups all-purpose flour
1 teaspoon baking soda
1 teaspoon baking powder
1/2 teaspoon salt
1/3 cup sugar + a dash of cinnamon for rolling
PREPARATION:
Soften butter by letting it stand for 30-45 minutes at room temperature OR cut into chunks and allow to stand for 15 minutes at room temperature
DIRECTIONS:
Preheat oven to 350 degrees F. Add the peanuts to the workbowl of a food processor and process for 4 minutes until smooth. Add salt to taste if desired (I didn't add any).
Beat butter, sugars, and 1 1/4 cups of homemade peanut butter on medium-high speed for 3 minutes. Add eggs and vanilla and mix on medium speed for 2 minutes. Whisk together flour, baking soda, baking powder, and salt then add to wet ingredients and mix on low speed until just combined.
Using a medium cookie scoop, scoop dough into balls, and roll in cinnamon sugar. Use a fork to press flat, making a crisscross pattern. Bake at 350 for 10 minutes until edges just start to turn golden (mine baked between 6-9 minutes).
Makes 4 dozen cookies.
(Recipe adapted from Kevin & Amanda)

Increase the yum factor (to room temp cookies):
INGREDIENTS:
Semi-sweet chocolate chip morsels
Crisco
Dry roasted peanuts, chopped
PREPARATION:
DIRECTIONS:
I don't recall exactly how much morsels I used.  If I had to guess, maybe a cup? It's basically for every 1/2 cup morsels, add 1/2 teaspoon Crisco, then melt (I used my double boiler). Dip cookies, then top with chopped peanuts. Yum!
Cookie MaDNeSs:
Last year's post:
« « Best Red Velvet Cupcakes
|
Irish Cream Bundt Cake » »